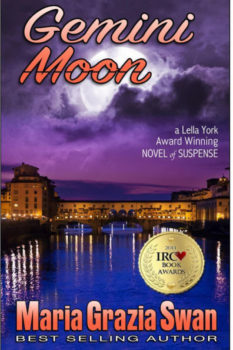 Lella York Mysteries #1
August 12, 2016
Echo Canyon Press
Available in: e-Book, Trade Size
Gemini Moon
When her eyes were finally opened to the truth, she couldn't recognize her own life…
Italian-born Lella York is trying to figure out who she is. Her husband has died. Her son is grown and, for the most part, gone. And now, her best friend is missing. Upon returning to Southern California after a visit to her beloved Italy, Lella is shocked to learn the mysterious circumstances of Ruby's disappearance as well as the death of Ruby's husband. And Lella's son is the prime suspect. Her cat is not so happy about it all either!
Now, someone's stalking Lella. Caught in the middle of it all, Lella stumbles across the perfect topper—namely, a sexy police detective who keeps secrets from her while he's setting her pants on fire. Nothing like a little romance to distract a girl while she's trying to locate a missing person, solve a possible homicide, get her son out of jail and stay two steps ahead of the firing line.
Gemini Moon was awarded the prestigious HOLT Award of Merit from the Virginia Romance Writers Association.
It also received a certificate of excellence from The Heart of the West Romance Writers of America.