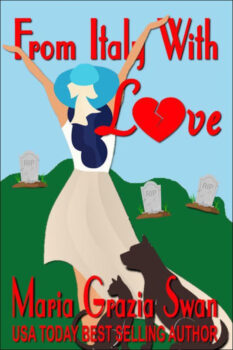 Baker Girls Cozy Mystery
Mina's Adventures
Lella York Mysteries
June 21, 2020
Canyon Press
Box Set
From Italy with Love
3 books — the first of each Series.
3 Sassy Italian imports chasing bad people while seeking to land a good catch.
2 mischievous cats.
1 rambunctious dog and a horse, a spotted Appaloosa.
There are a few graves… but a lot more laughter.
Book 1 in The Baker Girls Cozy Mystery series, COOKS, CROOKS AND A CORPSE:
(originally published February 2017 in eBook and trade paperback)
Can't resist lighthearted comedy dressed with a little mystery that never takes you down a dark road?
Good, because that's what you get when you put two hot Italian imports together. Meet the hot pink Fiat 500 and its owner, real estate agent Monica Baker.
Now stir in a dead body, a caterer about to lose her license, a real estate office coming off the rails, a goofy Great Dane, and a lively heroine who can't help falling for the brooding bad boy.
This is the world of Monica Baker: a high-speed mystery with a serving of mischief and a side of laughs.
Book 1 in the Lella York Mystery Series, GEMINI MOON:
(originally published July 2016 in eBook and August 2016 in trade paperback)
When her eyes were finally opened to the truth, she couldn't recognize her own life…
Italian-born Lella York is trying to figure out who she is. Her husband has died. Her son is grown and gone to chase fame and fortune in the movie business. And now, her best friend is missing. Upon returning to Southern California, Lella is shocked to learn the mysterious circumstances of Ruby's disappearance as well as the death of Ruby's husband. And Lella's son is the prime suspect. It doesn't help that he is driving around in the dead man's Ferrari.
Caught in the middle of it all, Lella stumbles across the perfect topper—namely, a sexy police detective who keeps secrets from her while he's setting her pants on fire. Nothing like a little romance to distract a girl while she's trying to locate a missing person, solve a possible homicide, get her son out of jail and stay two steps ahead of the firing line.
Book 1 in the Mina's Adventure Series, LOVE THY SISTER:
(originally published January 2013 in trade paperback and February 2013 in eBook)
Italian-born Mina Calvi lives in a mansion in idyllic Orange County, California with her protective older sister, Paola. Unemployed again and aimless, Mina can't seem to find her niche in her adopted country, but confusion and restlessness soon become the least of her problems. Someone is stealing from the software business owned by Paola and her husband, losses so great the business is sinking like the Titanic. And the strange death of a company employee turns out to be murder. Then, while, facing a loss so terrible she can't bear it, Mina discovers an old family secret that turns her world upside down. There's some solace in the arms of her blue-eyed lover, amateur sleuth Brian Starr, but danger still stalks her at every turn, edging closer and closer as Mina tries to untangle the web of lies, adultery and treachery, and put her life back together.