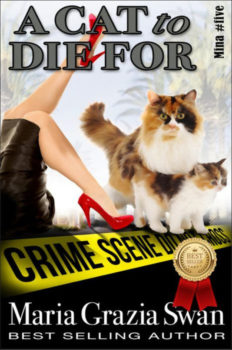 Mina's Adventures #5
July 19, 2015
Echo Canyon Press
Available in: e-Book, Trade Size
A Cat to Die For
Mina Calvi's new Furry Friends Foundation is a dream come true for the formerly footloose young woman. Her no-kill shelter rescues and places dogs and cats into new forever homes, and it gives Mina a purpose in life.
But changes are looming on a perfect Sunday afternoon at the Dana Point Marina where she is minding the adoption booth.
A Greek heiress, young, petite and beautiful, shows up on the arm of the love of Mina's life, Diego Moran. And worse, she wants to adopt Mina's calico cat, Houdini. The spoiled woman will not take no for an answer. Why is she so insistent on getting Houdini when she already owns a look-alike cat?
When Houdini is cat-napped, the cat-sitter murdered, and the ransom demand sent to the heiress, Mina has to keep her wits about her to get her beloved cat home safely, and to keep her heart from getting broken again by Diego, who inexplicably pops up at every turn of the unfolding drama.
This book was inspired by two extraordinary women dedicated to help improve the life of animals, cats in particular.