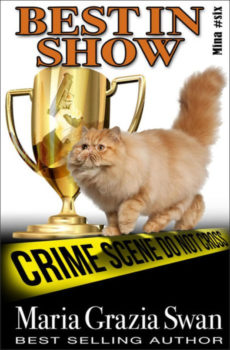 Mina's Adventures #6
October 24, 2015
Echo Canyon Press
Available in: e-Book, Trade Size
Best In Show
Mina Calvi, Italian transplant to Southern California, thinks her love life might finally come together, just as her professional life has. Her Furry Friends Foundation, a no-kill shelter for rescued cats and dogs, is a success, and Mina hopes she may find a loving forever home for herself, in the arms of Diego Moran, her elusive, frustratingly mysterious, on again-off again, lover.
When a seemingly innocent night out with friends lands Mina in a hospital bed and Diego undercover, and not the covers Mina wants him to be under, Mina has to draw on all her new-found maturity, and all her supportive friends for strength.
Meanwhile, a Best in Show cat takes up residence at the Ritzy Cats B&B, Mina's other venture, setting Mina on the trail of a suspicious character who might not have the cat's best interests at heart.
Add a Matchmaker to the Stars, a temperamental Italian chef and the usual menagerie of people and pets, stir it all up and you have an entertaining, hard to put down romantic tale of suspense.