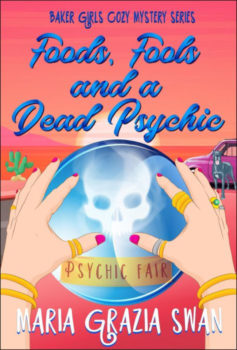 Baker Girls Cozy Mystery #2
March 31, 2018
Echo Canyon Press
Available in: e-Book, Trade Size
Foods, Fools, and a Dead Psychic
The Psychic Fair is in town, with Mediums and Psychics, Astrologers galore. And a lone murderer!
Believers and skeptics stroll the booths, nooks and crannies, along with the wise and the fools, all searching for answers to life's dilemmas. Some of them will go home full of hope, other filled with disappointment. One of them won't go home at all.
Good Italian Catholic girl Monica Baker has no interest in the fair, until Homicide comes calling and she finds out the people she trusted most were lurking there.
Where can she turn? To the willing arms of the married Frenchman who fills her nights with lusty dreams or the long arm of the law? Is the answer to the murder and Monica's future in the cards, the stars, the crystal ball? Or in Monica's own date with destiny.