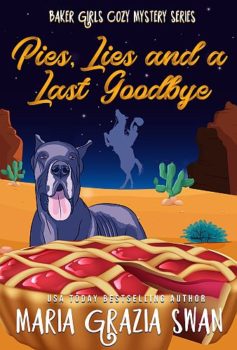 Baker Girls Cozy Mystery
December 22, 2019
Echo Canyon Press
Available in: e-Book Novella
Pies, Lies and a Last Goodbye
A missing horse. An absent heartthrob's disappearing wife. A catering gig making pie for highflying gamblers.
Monica's got her fingers in too many pies, all of them leading to trouble.
Tristan Dumont, the hunky millionaire and very married horseman asks Monica for a favor. Keep an eye on his beloved appaloosa till he gets back in town. As usual, she jumps to please him without thinking twice.
When Tristan's horse and then his wife go missing, social media starts to hum with gossip that Monica was the last to see both victims alive.
Things continue to spin out of control, like the wheels on her beloved hot pink Fiat, and Monica has more on her hands than baking pies for a derby.
Can Monica clear her name and save the innocent victims before Mr. Dumont returns home? Because the game is rigged and Monica is in danger of losing all that she cherishes most.