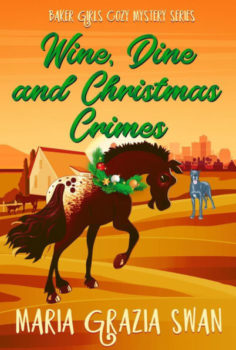 Baker Girls Cozy Mystery #3
August 16, 2019
Echo Canyon Press
Available in: e-Book, Trade Size
Wine, Dine and Christmas Crimes
Some Christmas surprises don't come from Santa. At a gathering atop the tallest building in Phoenix, Arizona, to celebrate Monica Baker's newest listing, the body of a mysterious young woman is found floating in the pool. But why do fingers point to Monica? Is it the victim's
missing clothing that links Monica to the crime?
As if being alone during the holidays and in love with someone else's husband wasn''t depressing enough, Monica now needs to convince the cops, her real estate broker, and her friends, that she really, really isn't a Christmas killer. And she better be quick if she wants to make midnight mass instead of prison roll call.